Quick, Tasty, Simple and Versatile…

This brilliantly useful paste couldn't be easier to make and can be spread over hot toast, cooled crostini or stirred into pasta or risotto. We use it to top crostini and then put whatever vegetables we have over the top for canapés or a quick lunch. Try steamed asparagus or shelled broad beans.

Crema di parmigiano per crostini
Parmesan and Ricotta Paste for Crostini
Makes 300g, enough for around 15-20 slices of toasted baguette
50g Parmesan
150g Mascarpone
100g ricotta
2 teaspoons extra-virgin olive oil
Fine salt and freshly-ground black pepper
Mix the ingredients together and use straight away or store in the fridge for up to a week. Spread onto hot or cooled toasted bread and top with vegetables. Asparagus is lovely with toasted almonds on top.
It's that simple!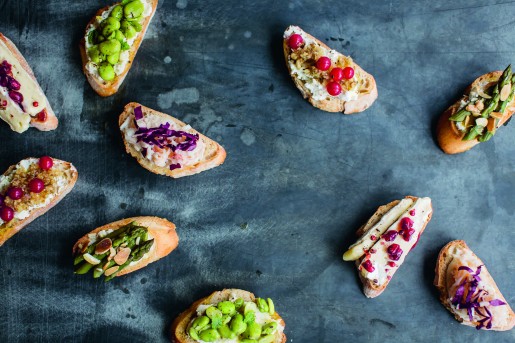 Photo by Helen Cathcart.
This recipe is from our book Venice: Recipes Lost and Found, published by Hardie Grant.